In 1893, Frank Lloyd Wright founded his architectural practice in Oak Park, a quiet, semi-rural village on the Western edge of Chicago. It was at his Oak Park Studio during the first decade of the twentieth century that Wright pioneered a bold new approach to domestic architecture, the Prairie style. Inspired by the broad, flat landscape of America's Midwest, the Prairie style was the first uniquely American architectural style of what has been called "the American Century."
During his early years in Chicago, Wright did not operate in a vacuum. His work was supported and often enhanced by a group of pioneering Midwestern architects at work in and around Chicago. This group, which Wright would later refer to as "The New School of the Middle West," included George Elmslie, Myron Hunt, George Washington Maher, Dwight Perkins, William Gray Purcell, Thomas Talmadge, and Vernon Watson, as well as Wright's later associates Marion Mahony, Walter Burley Griffin, William Drummond and Francis Byrne. These talented individuals honed their skills while working under the leading architects of nineteenth century Chicago. Inspired by the teachings of Wright's mentor, Louis Sullivan, the architects of the Prairie School sought to create a new, democratic architecture, free from the shackles of European styles, and suited to a modern American way of living.
Image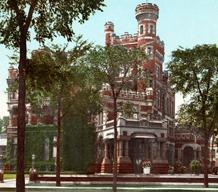 At the time Wright founded his practice American domestic architecture remained mired in the past. House styles were derived from the architecture of old Europe. Lavish buildings of Gothic Revival, French Empire, and Italianate form lined the streets of America's cities. For Wright, the houses he witnessed around him, derived as they were from the styles of other countries and other cultures, were unsuited to the American landscape. "What was the matter with the kind of house I found on the prairie?" he asked. "Just for a beginning, let's say that house lied about everything. It had no sense of Unity … To take any one of those so-called 'homes' away would have improved the landscape and cleared the atmosphere… My first feeling therefore had been a yearning for simplicity."
A masterful architectural designer, Wright developed a unique vocabulary of space, form, and pattern that represented a dramatic shift in design from the traditional houses of the day. Characterized by dramatic horizontal lines and masses, the Prairie buildings that emerged in the first decade of the twentieth century evoke the expansive Midwestern landscape. The buildings reflect an all-encompassing philosophy that Wright termed "Organic Architecture." By this, Wright meant that architecture should be suited to its environment and be a product of its place, purpose, and time. First developed in 1894, when Wright was establishing his practice in Chicago, this philosophy of design would inform his entire career.
Image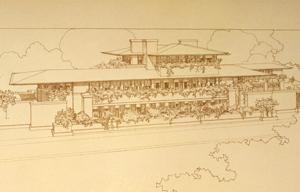 In the fall of 1909, with construction underway on his Prairie style masterpiece, the Frederick C. Robie House, Wright left America for Europe to work on the publication of a substantial monograph of the buildings and projects designed during his Chicago years. The result was the Wasmuth Portfolio of 1910, which introduced Wright's work to Europe and influenced a generation of international architects. On his return to America in 1910, Wright continued to explore concepts of organic architecture defined during his Chicago years but would seek new influences beyond that of the Midwest prairie.