Virtual Tours and Online Resources for Adults
Enjoy a virtual tour of the iconic Frederick C. Robie House, the consummate expression of Wright's Prairie style.
---
Learn about the Prairie Style and the Midwestern architects who contributed to its development.
---
Explore the expansive living space at the heart of the Robie House on this Virtual Tour.
---
Take a Virtual Tour of Wright's Oak Park Studio, the birthplace of American architecture.
---
Take a Virtual Tour of the Children's Playroom at Frank Lloyd Wright's Home and Studio in Oak Park.
Trust curator David Bagnall discusses the design and history of this remarkable space. 
---
Explore Wright's long-lost Larkin Administration Building in Frank Lloyd Wright: The Lost Works.
This ongoing series of immersive digital animations explores Wright's most important demolished and unrealized buildings.
---
Watch and Learn.
Kevin Nute, Assistant Professor at the School of Architecture, University of Hawaii examines Wright's interest in traditional Japanese pictorial art in the context of his philosophy of 'organic' architecture.
---
Image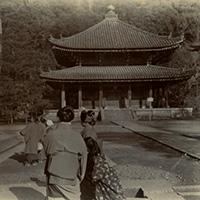 In 1905 Frank Lloyd Wright traveled to Japan, documenting his experiences in a series of personal photographs. 1905: Japan Through the Lens of Frank Lloyd Wright is an online exhibition of Wright's 1905 photographs of Japan from the archives of the Frank Lloyd Wright Trust. More >
---
Image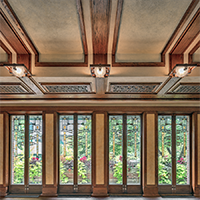 Take a deep dive into the history and design of the Robie House with Frank Lloyd Wright's Prairie Vision: The Frederick C. Robie House Conservation Management Plan. This publication presents a defining vision for the preservation of Wright's iconic Prairie house for generations to come. More >