Robie House Conservation Management Plan
Image

With support of the Getty Foundation's Keeping It Modern initiative, the Trust announces a new Conservation Management Plan for the Frederick C. Robie House. The plan documents the past, present, and future of Robie House research and conservation management and presents a defining vision for the preservation of Wright's iconic Prairie house for generations to come.
READ THE ROBIE HOUSE CONSERVATION MANAGEMENT PLAN >>
Image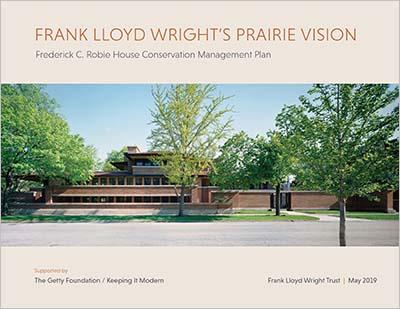 Robie House Restoration Overview
In spring 2019, the Frank Lloyd Wright Trust concluded the final phase of a comprehensive restoration of the Frederick C. Robie House at a total cost of $11 million. An iconic American building, the Robie House is a masterpiece of international 20th century architecture. Restored to its 1910 vision, the Robie House is the consummate expression of Wright's Prairie style. Defined by bold horizontal lines, daring cantilevers, stretches of leaded glass windows and open floor plan, the Robie House inspired an architectural revolution.
The restoration of the house interiors is a significant transformation, renewing Wright's vision for the ground floor and iconic main floor. This phase of work included the entry hall and stairway, billiard room and children's playroom on the ground floor; and the living room, dining room and guest bedroom on the main floor.
Lead preservation architect for the Robie House restoration was Gunny Harboe of Harboe Architects, and Bulley & Andrews was the general contractor.
Major funders of the restoration include: Alphawood Foundation Chicago, Pritzker Foundation, Hickory Foundation, Walton Family Foundation, Meijer Foundation, Tawani Foundation, John and Jeanne Rowe, Friends of Heritage Preservation, Richard and Mary L. Gray, and Viñoly Family Foundation.
Your support makes possible the preservation of Frank Lloyd Wright's architecture, design and living legacy.