Image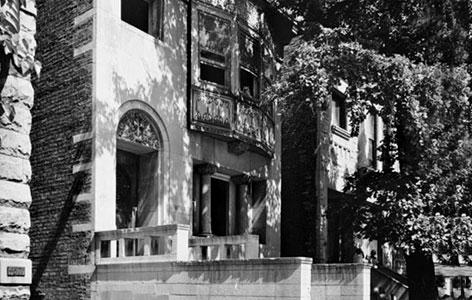 Date: 1891-1892
Address: 4575 South Lake Park Avenue, Chicago, IL
City: Chicago, IL
Category: Residential
Links: Southern Illinois University in Edwardsville, fragment collection
Restoration Status: Demolished in 1970.  Fragments of the façade are now housed in the Louis Sullivan architectural fragment collection at Southern Illinois University in Edwardsville.
Originally designed for Louis Sullivan's mother, the building was completed around the time of her death. Sullivan lived at the house from 1892 until his brother, Albert, moved in with his family in 1896. The structure, which was located in a neighborhood of row houses, was built on a narrow lot. Despite its compact size, the Albert Sullivan house exhibits an austerity reminiscent of the Charnley House. The building's cornice and bay window were covered in decorative sheet-copper, and the first floor interior woodwork and plaster displayed a diverse ornamental program. In contrast, the second floor interior was finished with a simple wood trim and unadorned plaster walls, perhaps suggesting Wright's influence on this area of the design.
---