Avery and Queene Ferry Coonley House, Stable, and Gardener's Cottage
Image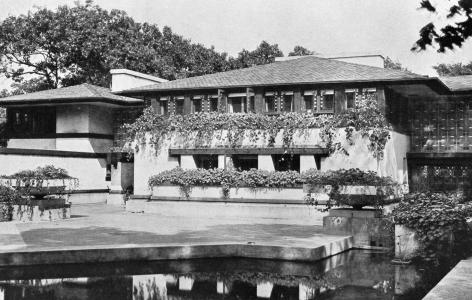 Date: 1907    
Address: 290 and 300 Scottswood Rd., 281 Bloomingbank Rd., and 336 Coonley St., Riverside, Illinois
City: Riverside, Illinois
Accessibility: Private
Category: Residential
The Coonley estate, a sprawling complex in Riverside, Illinois, is one of Wright's most impressive residential achievements. Avery Coonley, a wealthy Chicago industrialist, and his wife, Queene Ferry, granted Wright tremendous creative freedom to design a residence that he ultimately deemed "the most successful of my houses." The ground floor is relatively small and dominated by a children's playroom that looks onto a wide terrace and large pool. The primary living spaces are located on the upper level of the house, which is accessed by a set of staircases and comprises three principal sections. The western wing features a dining room, living room, study, and three bedrooms connected by a hall that expands and contracts in scale. A second, smaller wing with a kitchen and servant's quarters intersects the main living space at its northern end, while a third wing featuring two guest bedrooms intersects the southern end. These lateral projections extend like arms to embrace the driveway and central couryard of the expansive property. The flowing spaces of the house form a low, rambling U-shaped structure that melds seamlessly with its prairie environment.
The Coonley family's liberal commission provided Wright an opportunity to design the entire environment, including both architecture and decorative arts, and he relied on the expertise of a talented group of architects, artists, and craftspeople to realize his goal of creating a unified design scheme. George Mann Niedecken, a Milwaukee-based interior architect, oversaw the design and implementation of a comprehensive program of ornament for the Coonley house. Niedecken was responsible for preparing presentation drawings and fabricating and designing textiles, lighting fixtures, furniture, moldings, stained glass, frescoed murals, and cabinetry both in collaboration with and independent of Wright. He designed an impressive mural depicting birch trees and ferns for around the living room's fireplace. He also developed designs for some of the house's rugs, which were central to Wright's overall scheme. They feature asymmetrical patterns of squares and rectangles that reiterate the motifs found in the house's casement windows and exterior tile-work. Furniture found on the interior of the house relates in form to the external structure of the building, similarly creating a sense of continuity across the entire house. Rendered in an array of materials and designed in concert with one another, the house and its furnishings represent a high-point in Wright's Prairie architecture.  
Wright's work with the Coonley family continued beyond the realization of their home and, in 1911, he designed a nearby playhouse for their daughter.
---