Image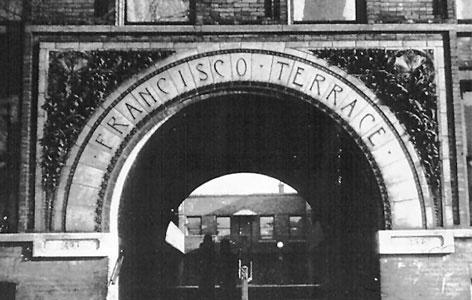 Date: 1895
Address: 253 North Francisco Street, Chicago, IL
City: Chicago, IL
Category: Residential, multi-family apartment complex
Restoration Status: Demolished 1974. In 1977, the original entrance arch was reinstalled in apartment complex on Lake Street at Euclid Place in Oak Park.
Francisco Terrace was among several Wright designs commissioned by Edward C. Waller, a wealthy real estate speculator and close friend of William Winslow, another of Wright's early patrons. Located on Chicago's near West Side, the two-story structure served as low-income housing. Its apartments were compact but shared a capacious central courtyard. Stair towers at each corner of the building provided access to its second story and, from this level, a wooden balcony afforded views onto the natural enclosure at the building's center. For the most part, the building comprised two-bedroom apartments with a sitting room, kitchen, and bathroom to each unit. A dramatic ornamental arch framed the building's entrance. It was salvaged when the building was demolished in 1974, and subsequently reinstalled in an apartment complex in Oak Park.
---