Image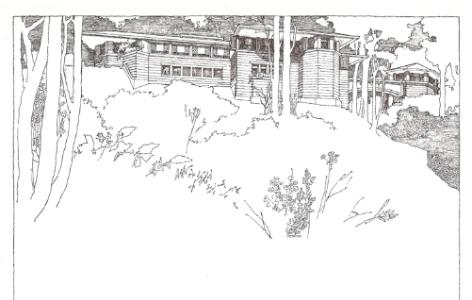 Date: 1905
Address: 850 Sheridan Rd., Glencoe, Illinois     
City: Glencoe, Illinois
Accessibility: Private
Category: Residential
Restoration status: restoration by Vinci-Hamp Architects, completed 2011. Work included structural stabilization, reversal of unsympathetic modifications, refreshing the existing leaded glass windows, returning the landscape to its original descent into the ravine, and integration of new mechanical systems including geothermal heat pumps.
The William A. Glasner house is a one-story residence situated on the edge of a sloping ravine on Chicago's North Shore. Asymmetrical in plan, and broad in appearance, the house responds to the irregularities of the picturesque landscape in which it sits. The dark board and batten siding that covers the lower portion of the structure is heavy in appearance and helps root the structure in its wooded site.  The octagonal library and sewing room are evocative of the Chauncey Williams and George Furbeck houses, as well as Wright's own studio in Oak Park. The plan indicates that a third octagonal space, a detached tea-house, was intended to be connected to the main structure by an arched bridge straddling a gulley. However, the tea-house was never realized. There is no division between the living and dining rooms, a characteristic that is often associated with architecture of the interwar period and, more specifically, Wright's single-story Usonian houses of the mid-1930s.
---