Hillside Home School, for Jane and Ellen Lloyd Jones
Image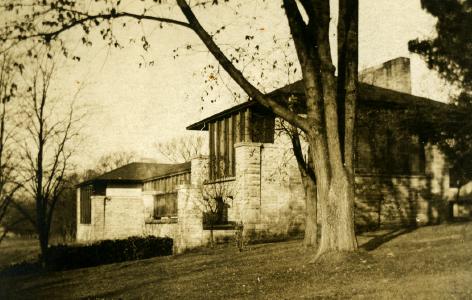 Date: 1902    
Address: 5607 Cty. Rd. C, Spring Green, WI 53588
City: Spring Green, Wisconsin
Links: www.taliesinpreservation.org
Accessibility: Public
Category: Educational
Wright designed the original Hillside Home School for his aunts, Jane and Ellen Lloyd Jones, in 1887. By 1902, the school had outgrown the domestically scaled Shingle style structure, and Wright's aunts commissioned a new structure to accommodate the activities of an expanding student body. The new building featured classrooms, an assembly room with a balcony that served as a library, and a gymnasium featuring a second balcony. A bridge connected the main structure to a physics laboratory and art room, the construction of which was funded by Wright's clients Susan Lawrence Dana and Charles E. Roberts, respectively.
Wright applied many of the design innovations found in his domestic architecture of the period to the school, including the use of low, hipped roofs; broad chimneys; fireplaces; leaded glass casement windows; and a modified cruciform plan. It was at his aunts' request that Wright used primarily dark stained oak and locally sourced sandstone in the construction of the Hillside Home School. The structure's quarry faced ashlar is evocative of the work of Henry Hobson Richardson, but also reflects Wright's growing interest in harmonizing the natural with the manmade.
The Hillside Home School closed in 1915 and, in 1933, Wright incorporated the structure into his Taliesin Fellowship complex.
---