Oak Park Studio for Frank Lloyd Wright
Image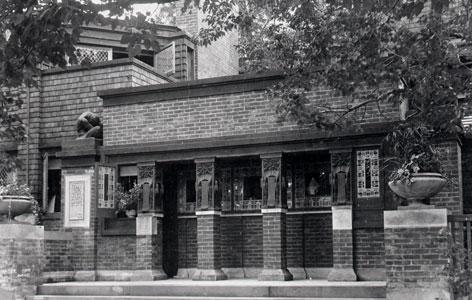 Date: 1897
Address: 951 Chicago Avenue, Oak Park, IL 60302
City: Oak Park, Illinois
Accessibility: Public
Category: Studio
Links: www.flwright.org
Restoration Status: Restored to its 1909 appearance by the Frank Lloyd Wright Trust, 1974 - 1987
After renovating his Oak Park home 1895, Wright's studio workroom, which was subdivided into bedrooms for his children, was no longer a viable workspace. Wright maintained an office in Chicago's downtown Loop neighborhood, occupying the Schiller Building, Steinway Hall, and the Rookery at various points in his early career. Wright was dissatisfied with working in an urban setting, however, and wrote, "the architect should place himself in an environment that conspires to develop the best there is in him. The first requisite is a place fitted and adapted to be protected and set aside from the distractions of the busy city." Wright thus added a private Studio adjacent and connected to his home in Oak Park.
On the exterior, the structure is composed of a staggered succession of geometric volumes and parapets sheathed in shingle and brick finishes that harmonize with the adjoining house. The entrance is indirectly accessed from behind a wall and colonnade. A low-ceilinged reception room links the Studio's library, a small office, and the dramatic two-story drafting room. It is this powerfully designed space that served as the creative heart of the building. Square in plan, the drafting room features an octagonal balcony, supported by chains hung from ceiling beams above. The design allows the room to be free of supporting piers, and provides an open sense of space.
The Oak Park Studio years were an incredibly prolific period in Wright's career. Major buildings of the Prairie style, including the Larkin Building, Unity Temple, and the Frederick C. Robie House, were all designed at the Studio.
---