Romeo and Juliet Windmill Tower for the Hillside Home School
Image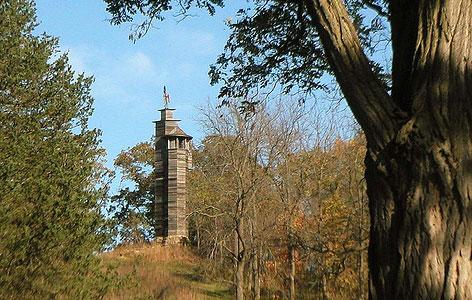 Date: 1897
City: Spring Green, Wisconsin
Accessibility: Public
Links: http://www.taliesinpreservation.org/
Restoration Status: Demolished in 1990. A replica of Wright's design stands in place of the original, however, the stone base and capped roof were salvaged and reused for the new construction.
Jane and Ellen Lloyd Jones, Wright's aunts, founded the Hillside Home School as a progressive boarding school in Spring Green, Wisconsin. Wright, with the help of his mentor Joseph Lyman Silsbee, designed a Shingle Style structure to accommodate the school in 1887. Ten years later, his aunts enlisted him to design a windmill and well that would supply water to the school. Positioned atop a hill and surrounded by trees, an octagonal tower hugged and structurally reinforced a taller, narrower, diamond shaped windmill in a gesture that, to some, evoked Shakespeare's lovers. Responding to his aunts' wishes that the design conform to that of the other structures on the site of the Hillside Home School, Wright finished the windmill tower with shingle siding. The original siding was removed in 1938, and a new tower replaced the original in 1992.
---