Susan Lawrence Dana House
Image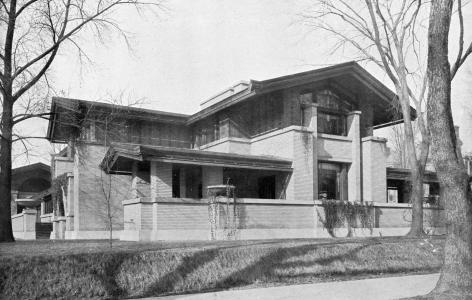 Date: 1902
Address: 301 E. Lawrence Ave., Springfield, IL 62703
City: Springfield, Illinois
Links: www.dana-thomas.org
Accessibility: Public
Category: Residential
Unified and harmonious, the Dana house stands as one of the most opulent expressions of Wright's visionary design philosophy. Designed and constructed between 1902 and 1904, the house was Wright's most elaborate residential commission to date. In contrast to Wright's typical clients, who were middle class business men, Dana was an independently wealthy, progressive woman. A social and cultural luminary in the community of Springfield, Illinois, Dana provided Wright with a substantial budget to remodel her family's mid-nineteenth-century home. In place of the original home, Wright and his colleagues at the Oak Park Studio, including Marion Mahony, Walter Burley Griffin, William Drummond, George M. Niedecken and sculptor Richard Bock, conceived a bold and expansive new plan with a sophisticated decorative scheme.
The twelve-thousand-square-foot structure is approximately cruciform in plan, and its rooms, which vary in level and height, flow naturally into one another. The gallery and dining room, which Dana used for entertaining, feature barrel-vaulted ceilings like that found in the 1895 play room of Wright's own home in Oak Park. The Dana house features one of Wright's most impressive displays of leaded glass, with over two hundred windows, doors, and skylights, all unified by their distinct design vocabulary and palette. Local sumac, butterflies, ferns, and other natural forms inspired many of the elements found in the integrated scheme of windows, furnishings, fixtures, murals, pottery, and tilework.
Few women had engaged Wright as an architect at this point in his career. Dana's bold design sensibilities, paired with a staid commitment to advancing social justice for women and black Americans through political involvement, thus mark her as a truly unique and progressive patron of architecture at the turn of the century.
---