Frank Lloyd Wright House, Studio, and Farm, "Taliesin"
Image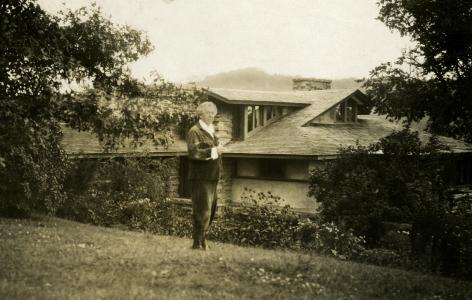 Date: 1911    
City: Spring Green, Wisconsin
Accessibility: Public
Category: Residential
Links: http://www.taliesinpreservation.org/
After their extended tryst in Europe, Wright and Mamah Borthwick returned to Chicago where Wright had plans to build a townhouse in the city's Gold Coast neighborhood. The project proved too costly, so the couple relocated to Wright's family lands in Spring Green, Wisconsin. In the spirit of Wright's Oak Park Home and Studio, Wright would again create a complex of buildings that united his home and work life.
The project, known as Taliesin—Welsh for "shining brow"—consisted of a house with a living room, kitchen, three bedrooms, two bathrooms, sitting room, and garden; studio with a workroom and small apartment; and service wing with stalls for horses, a garage, space designated for carriages and cows, and a milk room. It was located close to other projects Wright designed for members of his family, including the Romeo and Juliet tower (1897); Hillside Home School (1902); and Tan-y-deri (1907), the house Wright built for his sister, Jane Porter.
Like the suburban Prairie style residences of his early career, Taliesin featured hipped roofs, overhanging eaves, broad chimneys, an open floor plan, and bands of casement windows. The rolling topography of Southern Wisconsin allowed Wright to expand upon his earlier experiments linking site and structure. Here Wright responded to the natural landscape by building Taliesin around a hill top. The architect wrote, "I knew well that no house should ever be on a hill or on anything. It should be of the hill. Belonging to it. Hill and home should live together each the happier for the other." Indeed, Taliesin was situated to create picturesque views of distant hills and valleys, as well as nearby landscaped gardens. The multiple facets of its hipped roofs appear to follow the contours of the landscape, and Wright chose to build with limestone and other materials native to the area.
Taliesin's living quarters were tragically destroyed when a disgruntled employee set fire to the property and killed Mamah Borthwick, her two children, and four others on August 15, 1914. Wright subsequently rebuilt the structure, and it was incorporated into a larger estate that is now open to the public.
---