Arthur and Grace Heurtley House
Image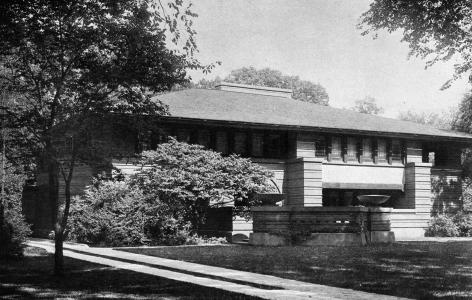 Date: 1902
Address: 318 Forest Avenue, Oak Park IL
City: Oak Park, Illinois
Accessibility: Private
Category: Residential
Solid and monolithic, the Heurtley house is one of Frank Lloyd Wright's greatest residential designs. Located a short distance from Wright's own Home and Studio in Oak Park, the house was commissioned by banker Arthur Heurtley and his wife Grace. While the rectangular form and monumental massing of the building evokes Wright's earlier Winslow house of 1893, the design reflects the remarkable evolution of Wright's work, and the emergence of his mature Prairie style design vocabulary.
Situated on an expansive lot, the house is anchored to its site by a substantial stone water table. A low-hipped roof with broad, overhanging eaves shelters the residence. The horizontal form of the building is further emphasized by Wright's use of two colors of Roman brick, laid in alternating, projecting bands. On the upper level of the house, in place of a decorative frieze, a continuous band of leaded glass casement windows extend across the façade.
Entrance to the house is via a heavy Romanesque arch. The ground floor is given over to a reception hall, a large reception room/playroom, guestrooms, and a servant's hall. Similar in concept to Wright's Husser and Thomas houses, the principal rooms are elevated to the second story. In contrast to the darker lower level, the upstairs area is defined by airy, open, and contiguous light-filled spaces. At the heart of the home, a substantial arched fireplace occupies a central position in the living room. In form and material, the fireplace echoes the prominent arch on the exterior of the building. Leaded glass windows that line the west side of the house, flood the main living spaces with light. An open-air elevated porch, accessed via French doors in the living room, blurs the division between interior and exterior space.
---