Image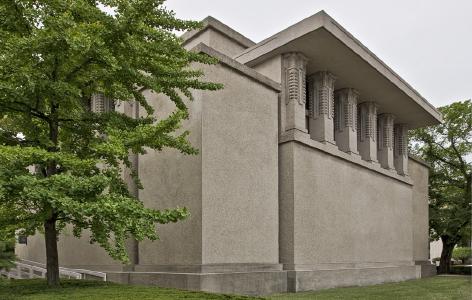 Date: 1905-08    
Address: 875 Lake Street, Oak Park, IL, 60302
City: Oak Park, Illinois
Links: www.flwright.org
Accessibility: Public
Category: Religious
Commissioned by the congregation of Oak Park Unity Church in 1905, Wright's Unity Temple is the greatest public building of the architect's Chicago years.
Approached from Lake Street, Unity Temple is a massive and monolithic cube of concrete, sheltered beneath an expansive flat roof. Wright's bold concept for the church enabled a series of concrete forms to be repeated multiple times. In harmony with Wright's philosophy of organic architecture, the concrete was left uncovered by plaster, brick, or stone. The introspective nature of the building is in part a response to its corner site situated along a busy thoroughfare. No entrance is apparent and the building appears impenetrable, save for a band of high clerestory windows recessed behind decorative piers and shadowed by overhanging eaves. The sanctuary is the heart and anchor of the building. At once grand yet intimate, the sanctuary is a masterful composition in light and space. Its elegant articulation and warm colors stand in striking contrast to the grey concrete exterior. Devoid of overt religious iconography, its precise geometric proportions declare a harmonious whole.
Wright's design for the building broke with almost every existing convention for traditional Western ecclesiastic architecture. In September of 1909, the new building was dedicated. Because its unique design bore little resemblance to the other churches along Lake Street, it was decided to rename it Unity Temple.
---