Of the great cities of the nineteenth century, none embodied the spirit of the modern age like Chicago. Its rise from a frontier village in 1827 to the world's sixth-largest city in 1893 was unparalleled. From the soaring multi-storied steel frame office buildings of Chicago's business district, the Loop, to the highly industrialized production lines of the city's stockyards, Chicago offered indisputable proof of the forces shaping modern American life.
Image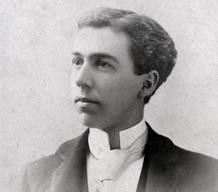 Frank Lloyd Wright's architectural principles were forged in the pioneering environment of late-nineteenth-century Chicago. Arriving in 1887, Wright would spend the first twenty years of his career working in the city and its suburbs. In Chicago, Wright was exposed to the work of the nation's most progressive architects and designers. The year he arrived saw the completion of H. H. Richardson's seminal Marshall Field Wholesale store, construction was underway on Burnham and Root's Rookery Building, and work would soon begin on Adler and Sullivan's Auditorium Theatre. Soon thereafter, the city would petition Congress to host the 1893 World's Columbian Exposition. Daniel Burnham's "White City," which emerged from the swampland of Chicago's lakefront, offered Chicagoans an unparalleled vision of the transformative power of the built environment.
Amidst this climate of ferment and rapid change, Wright began his career as an architect. He first secured a position in the office of Joseph Lyman Silsbee, whose "superior talent in design," Wright stated, "had made him respected in Chicago." Several of Wright's Prairie School contemporaries, including George Washington Maher and George Elmslie, passed through Silsbee's office, and the architect's work informed Wright's earliest theories on residential design.
The ambitious young Wright did not remain long with Silsbee. In early 1888 he secured a position with the prestigious architectural firm of Adler & Sullivan. The partnership produced many of Chicago's earliest tall buildings and large commercial projects, including the famed Auditorium Building, which Wright would work on as a draftsman. Sullivan soon recognized Wright's emerging talents, making the draftsman his personal assistant and spending hours mentoring him and shaping his philosophies. Wright was profoundly influenced by Sullivan's idea of a uniquely American architecture reflecting the Midwestern landscape and suited to a modern American way of life.
Image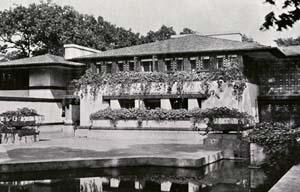 In 1893, Wright left his position as head draftsman at Adler and Sullivan, establishing his own independent practice with offices in downtown Chicago and a studio in Oak Park. It was in the suburbs surrounding Chicago that Wright found a receptive clientele for his work. Wright's bold, simple architecture, unfettered by historical European styles, resonated deeply with middle class "American men of business with unspoiled instincts and ideals." He found the perfect clients in his Oak Park neighbors, industrialists William Winslow and William E. Martin, lawyer Nathan Moore, and banker Arthur Heurtley. Residential commissions in the suburbs surrounding Chicago secured Wright's early reputation. Some of his greatest buildings from this period include the Arthur and Grace Heurtley House (1902), the Avery and Queene Ferry Coonley House (1908), and Wright's Prairie style masterpiece, the Frederick C. Robie House (1908-10).
Chicago was the birthplace of Wright's vision for a modern American way of living. Wright's Prairie style, developed at his Oak Park Studio, played an integral role in cementing Chicago's reputation as a center for innovative architecture and design. Today, the city and its suburbs are home to the greatest concentration of Wright buildings in the world. Chicago had a powerful effect on Wright—it offered the young architect an immersive environment of creativity and inspiration, shaping his architectural philosophies and laying the foundation for his future career.