Frank Lloyd Wright's first home and studio (1889-1909) was the birthplace of an architectural revolution. Wright used his home to explore design concepts that contained the seeds of his architectural philosophy. In his adjacent studio, Wright and his associates developed a new American architecture – the Prairie style. The historic district surrounding the Home and Studio has the greatest number of Wright-designed residences worldwide.
Learn More
Location
951 Chicago Avenue
Oak Park, IL 60302
United States
Home and Studio: Inside and Out
Guided Interior Tour + Outdoor Historic Neighborhood Audio Tour
Combine a guided tour of the Frank Lloyd Wright Home and Studio with an outdoor self-guided audio walking tour of the surrounding Historic District. See the famed homes that were designed in Wright's studio. Excellent value for a more comprehensive experience. Tours may be taken in any order. Self-guided outdoor tours are available in eight languages.
Trust members receive $20 discount on Inside and Out tours—call 312.994.4000 for reservations.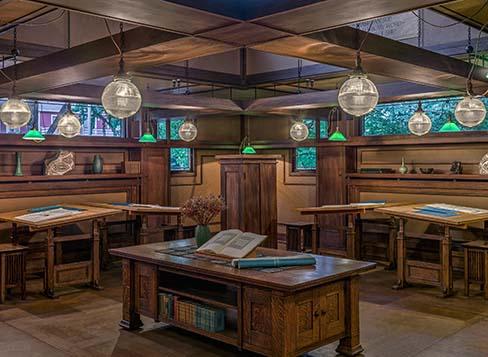 Home and Studio Guided Interior Tour
Enjoy a guided tour of Wright's Home and explore the Studio where the first uniquely American architecture - the Prairie style - was created.
This tour and the Robie House: A Modern Home are free to Trust members. Learn more at Membership.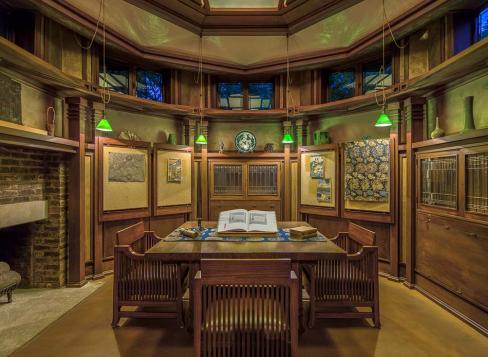 Entry into the Home and Studio is by guided tour only.
Advance tickets are highly recommended. Purchase tickets online or call our box office at 312.994.4000.
All guests, regardless of age, must have a ticket.
Children under 8 are not permitted on interior tours.
Late arrivals will join their specified tour in progress.
Strollers are not permitted inside the Home and Studio.
Tickets are not refundable or exchangeable.
eTickets and phone sales ticket orders must be exchanged for authorized admission tickets in the Museum Shop before the tour or event.
Visit our Group Tours page to book a tour for groups of 10 or more.
Day-of tickets may be purchased online or over the phone up to 30 minutes prior to the tour start time.
Self-guided Walking Tours are available in Chinese, English, French, German, Italian, Japanese, Portuguese and Spanish.
Closed: Thanksgiving, Christmas Eve, Christmas Day, and New Year's Day.
The Frank Lloyd Wright Trust welcomes all guests. We recognize the diverse needs of our audience and offer accessible programming to enable guests to explore the powerful aesthetic experiences of authentic Wright sites, preserved to Wright's original design vision.
For questions about site accessibility and how we can accommodate your specific needs, call 312.994.4000 or email info@flwright.org. Find more accessibility information on our Plan Your Visit page.
Still photography is permitted on tours. Share your photos using #FLWTrust.
LAND ACKNOWLEDGMENT
The Home and Studio sits on the ancestral lands of the Potawatomi, Miami, Kickapoo, and Peoria Nations. Today, Native peoples from over 100 tribes live in the Chicago area, one of the largest urban American Indian communities in the United States. Native peoples continue to contribute to the life of this region by celebrating their heritage, practicing traditions, and caring for the land and waterways.